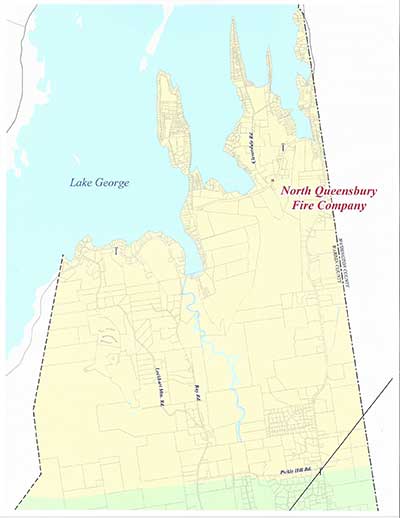 The North Queensbury Volunteer Fire Company is one of five fire companies serving the Town of Queensbury. Our service area is defined by Lake George to the north, the Warren County line to the east, to the south, an area 200 feet south of Pickle Hill Road and to the west, a line approximately ¼ mile east of Lockhart Mountain Road.

This Illustration shows our district. Click on it to view a larger map or click here to see all five Queensbury fire districts.

Of course we additionally serve our neighboring districts whenever called for mutual aid. These include West Fort Ann in Washington County, Bay Ridge to our south, Lake George to our west and all other surrounding areas when the need arises.
With a protection district of private and commercial properties, many located along over 13 miles of lakeshore, and with woodlands, mountain trails, highways and roads, the type of service we provide is extremely diverse. We're much more than a fire company as we provide marine, ice and mountain rescue service as well as responding to vehicle accidents, medical emergencies and community support in storm emergencies. Many of the varied services and skills we provide are shown here.
How We Serve